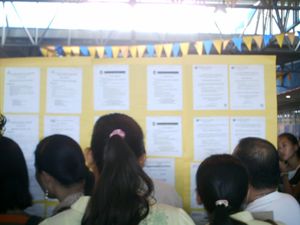 I am a professional applicant. Meron bang ganon?
I've applied for so many jobs that I've stopped having nosebleeds every time I take pre-employment tests. I've been to so many interviews that I've stopped stalling like a Miss Universe candidate with a fake smile looking for the answer that will give me the crown and not the worthless runner-up sash. I've been to so many companies in so many years that my interview clothes have gone out of fashion and my interview shoes have lost their soles. I've been to every company in between the small donut shop in CDO's divisoria to the gleaming new company by the sea in Tagoloan. This is what it means to be a professional applicant.
Some say I've been too picky, but really, how can I work for a manager who talks about s*x on a job interview, an executive who asks me to cooperate with evading labor laws and a business owner who demands that I pretend to be pretty on duty? Kulang nalang nay magpa demonstrate sa akong skills sa pagtimpla sa kape o sa pole dancing ba kaha. Sure, others have accepted jobs under similar circumstances but I just can't. So call me sosyal if you want but I want a good job with a great boss and fair pay.
It's been years and the job I've been looking for is nowhere in sight. I must either be really unlucky or too ugly for consideration but I haven't lost hope. I'll fulfill my dream someday (when pigs fly and Pacman is president) and while waiting for that time, I'll be standing by here, writing about my escapades as a professional applicant. You might want to write about your experiences too. Send them to Ninah at admin@misorjobs.com or virtualediting@gmail.com.