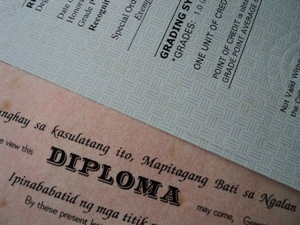 A: Here is another question from one of our readers.
Employers usually require college graduates for these seemingly simple or routine jobs because they may feel that college graduates have an edge when it comes to certain desirable qualities such as intelligence, maturity, initiative, experience, etc. Since many companies cannot carefully supervise their employees, they need people who can quickly and correctly make minor decisions. They may or may not be correct in their assumption that college graduates are better than high school graduates.
Of course, various employers may have their own unique reasons for their applicant preferences. Because they are the ones hiring, they have full sway on what qualifications they will require.
Based on your question, it seems that you feel that graduates of four year courses are overqualified for the positions that you mentioned. The truth of the matter is that jobs in our country aren't easy to get into. There are far more graduates than there are jobs that match their educational backgrounds and experiences. Hence, people are often forced to take jobs that are not related to their courses or jobs that they perceive to be too simple for them.