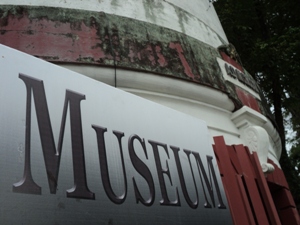 Ring, Ring…
"Hello? Is this the Museo ng Maynila?" I asked nervously.
"'Tis. How may I help you?" the lady asked.
"This is Webster and I'm just inquiring if the position of a museum researcher is still available?"
"'Tis!"
"I wanted to apply, ma'am," I said shyly.
"Sure you can come here anytime from Mondays through Fridays from 8 am to 5 pm. You can bring your resume, transcript of record and if possible copies of your certificates from seminars and symposiums."
"Ok, I will! I'll go there this afternoon. Thank you very much for your help. Bye."
I was in my most glorious mood at that time. I hurriedly dressed and left the house, it's going to be a 2 hour travel to the museum.
I arrived at the city in the most tedious time of the day. The heat was deadly, I didn't know where the place was and surprisingly nor the Manileños. I walked, walked, asked, asked and finally I got there.
Talked to the lady at the gate and said I was an applicant.
Looking at the facade of the building it seems like it's an old abandoned place.
When I entered the building it looks more like a haunted house, it was dark and hardly any atmosphere of a museum. Fortunately I did see 2 people on the entrance and they work there. They showed me the office and asked me to sit in one of the chairs.
"You were the one who called earlier, right?" the lady said.
"Yes, ma'am. That was me."
"Can I have your resume, transcript of records and your seminar certificates?"
I handed her the papers. She had my certificates photocopied and returned the original certificates to me.
"Do you like researching?"
I smiled, nodded and said "I really wanted to work in a museum."
"Okay, we'll just review your records and papers. We'll call you once we have decided."
"Sure, thank you very much."
Then I left.
It's been 8 months. I hope they burned my papers.