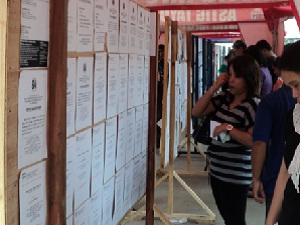 I know a good number of people who enroll in college courses they absolutely love and expect to later gain a perfect job match. While this isn't entirely impossible, it's not always possible either. You might be setting yourself up for disappointment if you absolutely demand that circumstance serve you your preferred kind of employment.
Why Job Matching Is Hard
The truth is that there really may be good positions available in your field of choice. Keep in mind though, that there are hundreds of applicants every year competing with you for each available slot. You've got to make sure you've got the best qualifications to get a good position.
Even if you've got what recruiters are looking for however, this doesn't always guarantee that you will be placed in a spot where you will always be asked to do only what you want to do. Keep in mind that today's economic situation is difficult for everyone, including employers. Hence, there will be a fair number of recruiters who will prefer multi-tasking professionals. In other words, you may have to perform duties that are outside what a person of your degree would normally perform.
Your Best Course Of Action
If you don't want to be unemployed forever, you may have to put a reasonable cap on your expectations. This does not mean you should accept job offers in fields you absolutely hate. This simply means you've got to compromise a little. If you can't get what you want exactly, go for a situation that can give you partly what you want.
Loosening your standards isn't a bad thing. A less than perfect job match will allow you to gain relevant work experience that may serve you well in the future. You can use what you've learned in your present position to either find better occupations or to rise in the ranks where you are.
Don't get too caught up in job matching. After all, hardly anything in life turns out exactly the way you want it to. Work with what you have at the present to create better opportunities for yourself in the future.