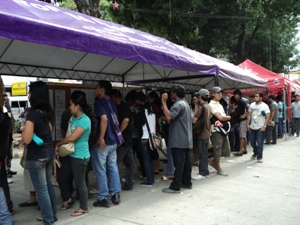 Things can get pretty tough when you're looking for a job. That's especially true when you're in a point in time where unemployment rates are high and there aren't enough jobs to match your skill set and preferences. Despite apparent difficulties though, you can still manage to put yourself at an advantage over other applicants when you're job hunting if you develop five key qualities in yourself.
Perseverance
To persevere means to never give up even in the face of insurmountable odds. It's obvious why you should have this trait if you want to get a job. Good jobs are hard to come by and when these come along, you'd have to compete against hundreds of other qualified applicants. If you give up after several failed attempts, you'll never get anywhere. Keep in mind that job opportunities rarely approach you. You have to be the one to go out and chase after them so don't stop.
Resourcefulness
Applicants these days are pretty lucky because there are now so many ways to look for jobs. In the old days, applicants had to physically scout for jobs. Today, you can just go online and send applications through email. This doesn't mean though that the old ways are now no longer applicable. If you can't find a job online, get up from your seat and scour public employment offices, newspapers and streets to look for more opportunities. If you're at home doing nothing, why don't you jog around town. You'll be surprised to see lots of job postings scattered everywhere.
Tirelessness
When I say be tireless, I mean have the state of mind or attitude that is the opposite of being lazy. If a company does not post its email address online for job applicants to submit to, that might mean they want their applicants to personally hand over their applications. Don't let the effort of commuting throw you down. Get up and march over to that office you want to get a job in. In the same vein, don't be too lazy to pick up the phone or send an email if you want to ask a hiring company some questions.
Mindfulness
Being mindful is the closest synonym I could find to being in a state of self-awareness. By this I mean it's important that you know who you are, what your skills are and where you fit best. This will keep you grounded and cognizant of which job opportunities are a good match for you. This will prevent your having to experience disappointments over not being hired for jobs that you can't do as well as someone else might.
Prudence
Add to this quality the related term cautiousness. In the digital age, these traits are more vital than ever. Anyone can post anything online today, even fake companies and social predators. Even if an online service moderates posts, take the time to validate job postings directly with the companies that have posted them if you are not familiar with the hiring company or if they're using unofficial email addresses. Pick up the phone and call them to ask about the job.
Let me throw in two more tips on applying for a job safely. First, for overseas employment opportunities make sure the agency that's hiring is accredited by the POEA. Second, do not leave your number and address for public view online. You are leaving yourself accessible and vulnerable to people who might take advantage of you.
These are just five of the most important qualities I think every job applicant should have. Of course, there are a couple more traits that might help you along the way. Develop these five in you first though and you'll be ready to weather the challenging road of job hunting ahead of you.