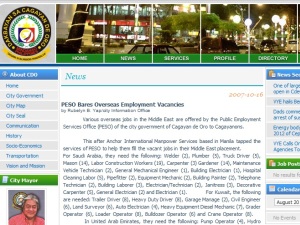 The Cagayan de Oro Public Employment Service Office (PESO) will be holding a job fair for local and overseas employment on June 15, 2011 from 8:00 a.m. to 5:00 p.m. I was able to sit down for a brief 10-minute chat with PESO Manager, Ms. Juvy B. Paza, and I was able to obtain additional information about the event. The details given below are from her office.
The fair will be held at the City Tourism Hall. Applicants are asked to come in business attire and to bring the ff:
resume
transcript of records (or high school diploma for skilled workers)
employment certification
Upon arriving at the venue, applicants will have to go through a screening process as outlined below:
Proceed to shopping area which will feature instructions on how to apply for available job vacancies
Proceed to online registration section where applicants can fill in electronic forms. Applicants are given the alternative to fill forms manually. Also, applicants may obtain forms to manually fill up in advance before the actual event. Forms can be obtained from PESO.
Proceed to gate 1 where forms and requirements will be checked.
Proceed to gate 2 to surrender form and to obtain priority number. There will be no advanced issue of priority numbers. These can only be obtained at the venue on the day of the job fair.
An assessor will screen applications and applicants will be referred to employers for interview.
Ms. Paza has also kindly provided a PARTIAL list of participating companies with their job requirements:
Bigby's Commissary
Dining Manager (5)
Service Manager (3)
Kitchen Manager (3)
Production Manager (3)
Marketing Manager (3)
Baker (4)
Cake Decorator/Pantry (5)
Driver (3)
Cashier (4)
Service Crew (5)
Kitchen Helper/Controller (3)
Dunkin Donuts
Accounting Staff (2)
Stockroom-In-Charge (2)
Service Crew/Production Crew (40)
Administrative Assistant (2)
Production Driver (5)
Management Trainee (6)
UKC Builders
Civil Engineers (3)
Electrical Engineer (1)
Certified Public Accountant (2)
Auditor (3)
Carpenter (5)
Steelman (5)
Sentara Nail & Body Spa
Spa Therapist (10)
Sales Agent/Salesman (2)
Teacher/Asst. Teacher (2)
Cebu MITSUMI, Inc.
Process Engineer
Quality Engineer
Production Technician
Mold & Die Design Engineer
Product Design Engineer
Machine Design Engineer
Production Supervisor (7)
Robinsons
Administration Clerk
Information Clerk
Cashiers
Sales Clerks
Toyota, CDO
After Sales Coordinator
Insurance Claims Processor
Customer Relations Staff
Tow Truck Driver
Admin. Staff – Logistics
ASD Admin Staff/Driver
Pollution Control Officer
Service Advisor Asst.
Marketing Professional
Finance Staff
Human Resource Staff
Service Crew
Environmental Mgt. System Apprentice
Environmental Mgt. System Job Trainee
Gerry's Grill
Branch Manager
Assistant Manager (Dining)
Assistant Manager (Kitchen)
Purchasing Assistant
Accounting Assistant
Stockman
Line Cooks
Store Marketing Coordinator
Cashiers
Office Clerk
Maintenance Crew
Service Crew/Receptionists/Bartenders
Food Expediter
Interserve Marketing
Cashier (3)
Sales Specialists (20)
Sales Agents/Representative
Accounting Staff
Electrician
Save More Market
Customer Assistant
Treasury Assistant
Pepso Cola Products, Phils, Inc.
Inventory Clerk
Trade Marketing Asst.
Production Manager
Credit Analyst
Territory Managers/Key Outlet Managers
Order Processing Analyst
AMRECO-PSAGCOR
Finance Officer
Administrative Officer
Accountant
TSPI
Account Officers
Accounting Clerks
Cash Express Worldwide, Inc.
HANJIN
Amley Food Corporation
Purchaser
Food Tech Graduates (2)
Quality Control Analyst (2)
PICMAW
Welders (100)
Pipe Fitter (50)
Millwright Operators (20)
Civil Engineer (5)
Automotive Electrician (3)
SLERS
Management Trainee (4)
Industrial Engineer
Marketing Assistant
Sanitation Officer (2)
Service Crew (10)
Coffee Crew (6)
Sales Assistant (20)
Promo Merchandiser (10)
Production Crew (20)
Machine Operator (4)
Electrical Technician (3)
Philplans
Senior Trainor
Area Manager (3 CDO)
Area Manager (Bukidnon)
Area Manager (Iligan)
Branch Manager (6)
Branch Manager (3 Iligan)
Branch Manager (2 Bukidnon)
Regional Secretary
Sales Councilor (10)
Facil
Computer Driver (2)
Utility Messenger
Administrative Assistant
Store Manager (Davao)
Field Sales Technician (Davao)
Purefoods
Veterinary Medicine Graduates (3)
A. Brown Company
Equipment/Construction Leadman
Surveyor
Sales & Documentation Staff (2)
Arm Resources, Inc.
Synnex-Concentrix
Customer Service Representatives
Product Support Representatives
Junior Programmers
Operations Analysts
Accounting Assistant (Spanish Support)
Accounting Assistant
Accounting Assistant Manager
SM Supermalls
Leadman (Snackbar)
Office Assistant
Resident Engineer
Jollibee
Management Trainee
Accounting Staff
Delivery Rider
Service Crew
Limketkai Sons, Inc.
Limketkai Manufacturing Corp.
Accounting Staff
Business Development Asst./Marketing Asst. (for CDO and Cebu assignment)
Asiapro Cooperative
Content Writer (5)
Web Developer (2)
Sysnet Administrator (2)
Union Galva Steel Corp.
Accountant (2 Davao)
Jr. Marketing Offier (8 CDO, Zamboanga, Davao)
Progress Engineer (Davao)
Technical Services Engineer (Davao)
HR Assistant
Project Engineer (2)
Career MG Program Trainees (10 Mindanao)
DDT Konstract, Inc.
Quantity Surveyor/Estimator (50)
Field Engineer (QA/QC/Rebar/Formworks Concreting/Structural) (50)
Equipment & MEPF Engineer (Mechanical/Electrical/Plumbing/Firepro) (50)
Technical Show Drawing Head (50)
Project Architect (50)
CADD Operator (Architectural/MEPF) (50)
Line & Grade Surveyor/Instrument Man (50)
Accounting Staff & Internal Audit Staff (20)
Project Administrative Staff (20)
IT Specialist (2)
Safety Officer/Enforcer (10)
Steelman/Leadman (5)
Steelman (50)
Carpenter/Leadman (10)
Carpenter (100)
Leadman/Mason
Mason (10)
Laborer (Material Handling) (50)
OVERSEAS PARTIAL LIST:
PISCES
Aluminum Installer/Technician (50)
Computer Technician/ADSL/IT/Tel. Tech (200)
GSM Technician (20)
Transmission/Telecom Engineer (20)
Civil Engineer (25)
Electrical Engineer (25)
Mechanical Engineer (25)
Agriculturist/Horticulturist (30)
Heavy Equipment Drivers (60)
Carpenter (35)
Plumber (35)
Mason (35)
Waiter/Waitress (20)
Dressmaker (ready Visa) (2)
Neon Installer (ready Visa) (2)
Architect (20)
Document Controller (5)
Male Executive Secretary (5)
Magsaysay Seabased
Concept Placement
United Global
JS Contractor
First Champion
NAWRAS
EEI
Lead Manpower
Waiter (4)
Waitress (18)
Bartender (Male – 2 & Female -5)
Line Cook (Male – 16 & Female – 5)
Hostess (20)
Blazing Star
Again, let me reiterate that the list provided above is a PARTIAL list. Also, applications for the said positions should be forwarded and processed during the job fair at the stated venue.
From the looks of it, this is going to be one of the biggest job fairs in Cagayan de Oro and Misamis Oriental. Don't miss the event.